100 Ugandan orphans are in primary or secondary school, or in the CANHAVE vocational school, thanks to Canadian donors and Ugandan volunteers.
CANHAVE was created on 1994, and incorporated in 1995, in response to a request from a Ugandan grandfather who was unable pay school fees for his five grandchildren, left orphans by AIDS. Since then, CANHAVE has supported primary education for more than 250 AIDS orphans, their extended families and their communities.
The children are helped by volunteers in Uganda, often people with families of their own, who give time and energy to serve as liaisons between school, family, and child.
Joseph was one of the first children sponsored by CANHAVE. A Christmas gift of coloured pencils from school children in Gatineau led him to discover a talent for art. With encouragement and support he completed a diploma in arts and earned a university scholarship. He is now in the United States, studying for a university degree in engineering. Joseph's artwork has been featured in CANHAVE greeting cards and other products sold to raise money for AIDS orphans in Uganda.(photos of Joseph and his art work).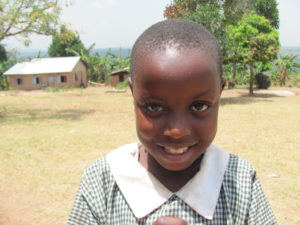 Patience
Patience is much younger than Joseph. CANHAVE Uganda volunteers learned that Patience was living with her granny, and that she had a dangerous, two kilometres walk to school. CANHAVE offered her a place in St. Joseph's Primary School, where she now attends Primary 6, lives in boarding with other children, and visits her granny on holidays. We hope that Patience is able to fulfill her dream of someday becoming a doctor and helping the sick in Uganda.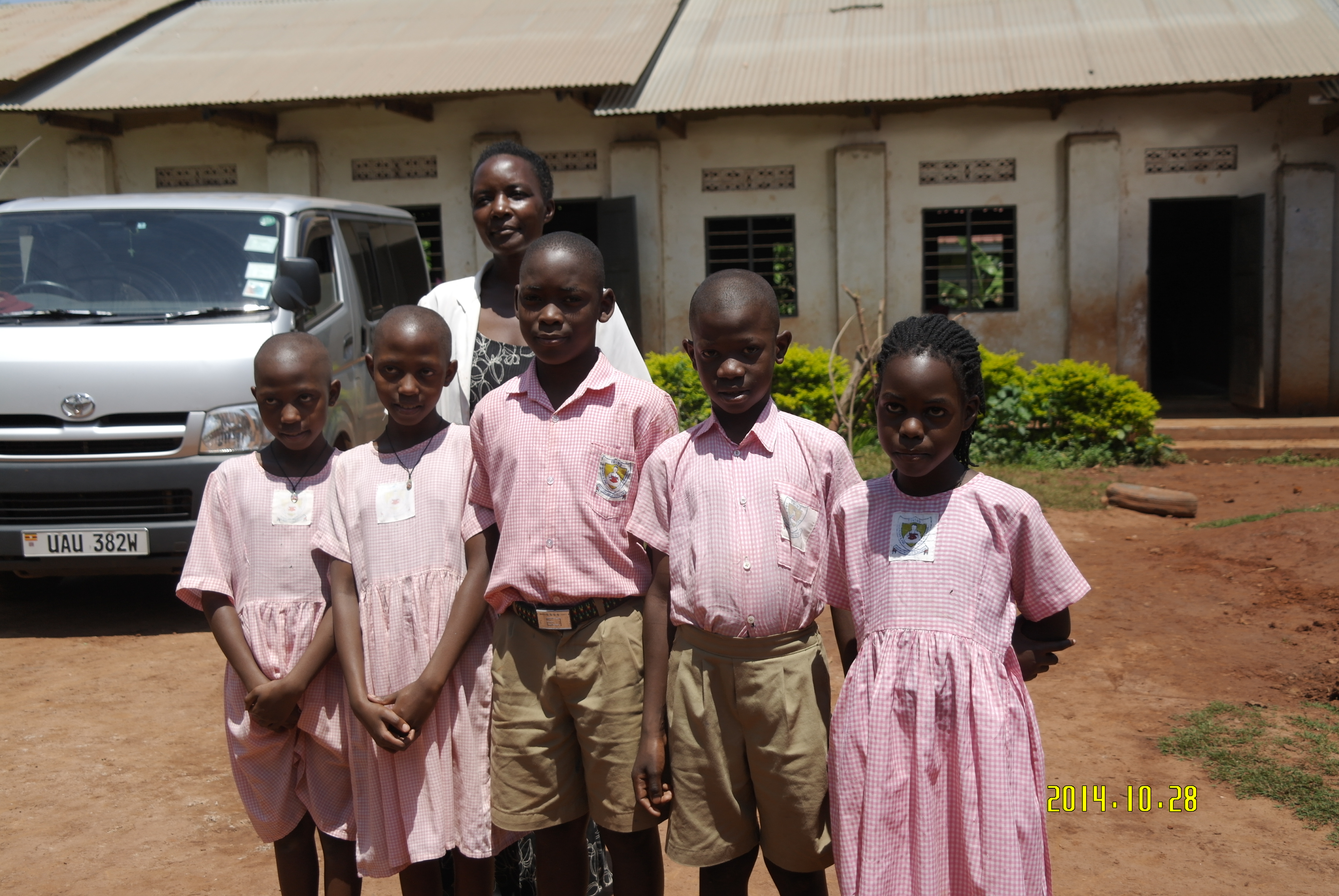 Agnes and Margaret in 2014 with 3 CANHAVE children and the head teacher of Twins Nursery and Primary School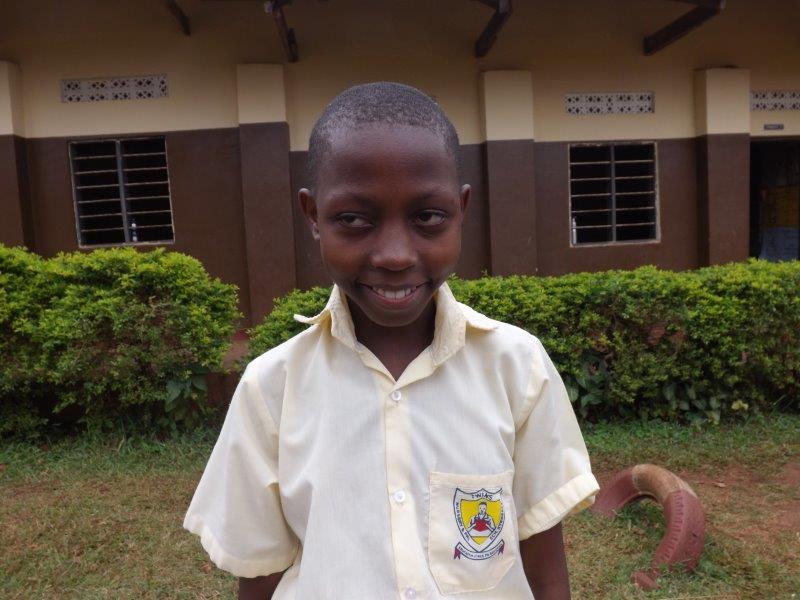 Margaret in 2016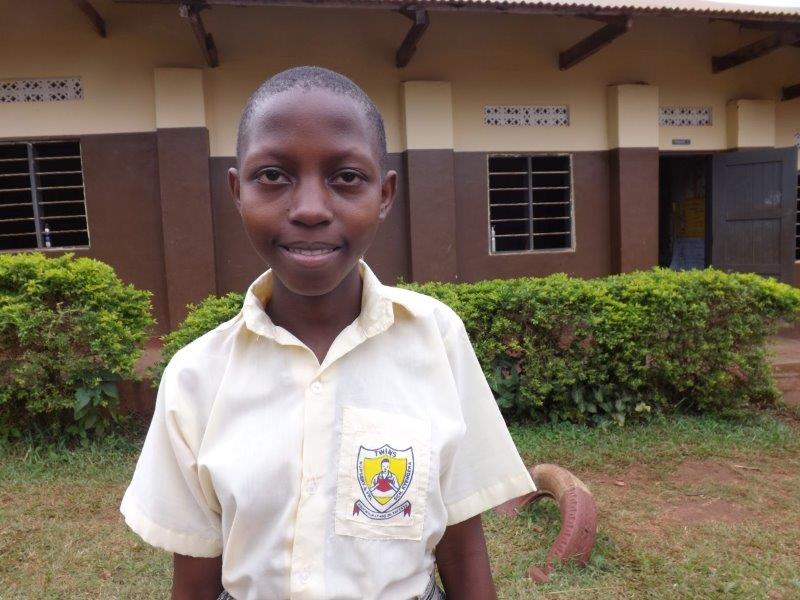 Agnes in 2016
Twins Margaret and Agnes are recent recipients of CANHAVE support. In a few short years, they lost both parents and their granny to AIDS, leaving a traumatic effect upon Agnes in particular. With CANHAVE support, they are now attending a school in Uganda specially intended for twins. The head teacher – herself the mother of twins – has helped the children adjust and regain strength and confidence.
Pioneers
Each CANHAVE child, from 1995 to the present, is unique. Each deserves love, attention, and care. That is why CANHAVE exists. We believe these children – the unseen victims of the AIDS epidemic – deserve a chance to grow up and become happy, productive citizens of their country.
Priorities
CANHAVE Canada will continue supporting CANHAVE Uganda to further strengthen the Children's Program in providing the basic literacy skills of read, writing and arithmetic to primary school children.
Priorities for CANHAVE are to:
(a) Focus attention and care on the CANHAVE children in primary school, where they learn the basics and develop a sense of confidence and hope
(b) Encourage and support pupils who progress well in basic reading, writing and arithmetic up to and including Primary 7
(c) Provide placement at the CANHAVE Vocational School for a maximum of 2 years for those CANHAVE students leaving Primary 7 who are mature and not oriented to the academic education in secondary school
(d) Provide financial support at the secondary level to those students with good marks and an orientation for academic work
(e) Work with the Ugandan Children's Program Board to monitor progress on the holistic approach to care for each child and to develop criteria and to create a data base to track pupils throughout their schooling and as graduates of CANHAVE.