With a generous gift from a Ugandan supporter of seven acres of land in Kisubi, on the shore of Lake Victoria, CANHAVE has built a vocational school and since 2008 has offered practical training and two-year diploma courses.
The Vocational School fills a need for practical training for CANHAVE children, upon completion of Secondary 4 education, so that they are able to support themselves and their families.
From the outset CANHAVE Canada planned for the Vocational School to be operationally self-sustaining within five years. Students pay to attend, with CANHAVE Canada supporting their students for the first two years. CANHAVE Uganda is diversifying its income through selling products made by Vocational School students, developing new services, and developing partnerships. As a result, CANHAVE Canada no longer needs to provide operational funding for the School.
The initial building, a three-sided rectangular building, was constructed in part with materials and day labour funded by CANHAVE, and in part with volunteer labour from local Ugandans.
In the beginning, the School offered carpentry and joinery, catering and hotel management, hair dressing and styling, tailoring and sewing, and computer training. Agriculture and electrician's training were added later. Instruction is in English, the programs are two-years in length, and lead to exams conducted by the Department of Industrial Training. Occasionally, CANHAVE has hosted short-term courses in Luganda.
One particular challenge arose soon after the opening of the School: the girls needed a place to board, as it was too dangerous for them to come and go after dark. (The boys, fewer in number, could board in town and take their meals at the school.) In 2011-2012, CANHAVE launched a campaign to build a girls' dormitory. The capital campaign, led by Mrs. Grete Hale, was successful and Elizabeth Residence was opened in April 2013.
Other improvements have been made on the property. A well was installed, the gift of a member of Parkwood, and neighbours may use it. The property has been fenced on the large five-acre plot. A building in the adjacent two acres of land owned by CANHAVE has had various purposes over the years.
In 2016, CANHAVE Canada agreed to promote capital projects to its donors and supporters. If they are funded, each project will upgrade the facilities and bring them up to standard after several years of wear and tear and a changing economic and technical environment in Uganda. These investments are made on the advice of CANHAVE Uganda, which provides detailed budget and plans for each project. The Ugandans believe that investment in the School will allow them to continue to support CANHAVE orphans over the longer period.
It is gratifying that most graduates of the Vocational School have been successful in finding jobs. Many are in small and medium-sized businesses, providing products and services which are in ready demand. Uganda, like some other countries in sub-Saharan Africa, has a well-educated professional class and civil service, but high unemployment among university graduates in traditional arts and sciences is perennial.
The Vocational School has had electricity since it opened in 2008. In 2016, an internet hub and secure office for CANHAVE was set up in the girls' residence, increasing the ease and frequency of communication between CANHAVE Canada and CANHAVE Uganda.
Our Students
In 2016 the school has 86 students in the following courses.
The Vocational School manages courses for full-time students in two-year courses as well as shorter term courses. The following reflect statistics for all students.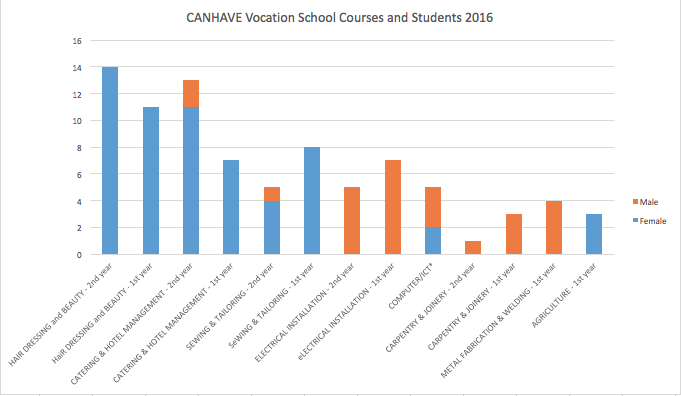 July 29, 2016 Our Most recent graduation
CANHAVE held its graduation on 29 th July, 2016. It was a successful event with over 60 students graduating and getting their certificates in different disciplines. An official from the Ministry of Education represented the Honourable Minister as the Chief Guest. The Deputy Chief of Mission at the Uganda High Commission in Canada, Ms. Margaret Kyogire, was also in attendance.
More importantly our students who benefitted from the CANHAVE sponsorship graduated.
They were so grateful to you the sponsors! All of them are working and are earning a living
courtesy of your support – thanks to CANHAVE Canada.