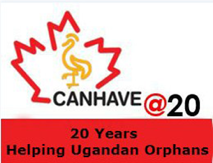 International Day of the Girl Child – Uganda's progress and challenges!
Dear Friends of CANHAVE,
Greetings from Kampala Uganda!
As supporters of education and well being of AIDS Victims, I thought you might want to know what Uganda is doing, in collaboration with its international partners, to work towards the well being of a girl child. Below, you will find some eye-opening statistics on girls in Uganda.
Observation and recognition of this day was declared by the United Nations in 2012. Since then, celebrations have been held in various parts of the world on October 11 of each year. This year's theme was "Girls' Progress = Global Progress: A Global Data Movement"
In Uganda, the First Lady, Honourable Janet Museveni is the National Champion of Adolescent Girls. She is also the Minister of Education and Sports.
Mrs. Museveni acknowledged the importance and relevance of this years' theme to accountability and key indicators for Ugandan adolescence girls' well-being and progress. She added that the second cycle of life, which is adolescence, is the stage of development where Uganda can make the greatest impact on its girl child. While Uganda still has a long way to go to achieve its goals, Mrs. Museveni added that, this years' celebration is aimed at recommitting Uganda to address all the critical challenges that affect adolescent girls. The aim is to remove barriers that hinder their progress in achieving full potential.
A strategic plan developed in collaboration with Plan Uganda and rolled out on October 11, 2015 is heading into its Year 2. It created a framework and guide for all engaged in gender issues. In Year 1, gender audit was been conducted in Karamoja region.
Uganda's vision 2040 aims at developing a strategy to identify and nurture talent development for the youth. Uganda has inaugurated an inter-ministerial task force on adolescent girls coordinated by the Ministry of Gender, Labour and Social development (MGL&SD). The mandate of the task force is to take care of and manage adolescent girls' priorities.
In collaboration with the United Nations agencies, the Ministry of Education a national strategy has been rolled out to address barriers to girls' education and have identified the following as the most major ones:
Lack of access to education
68% of adolescent girls between the age of 15-19 have never attended school
Child marriages
The MGL&SD is advocating a National Strategy on ending Child Marriage. Statistics to date are as follows:
49% of all 20-49 year old women (about 3 million women) were married by age 18!
15% (around 300,000) were married by age 15!
Teenage pregnancies
Statistics to date show that 1 in 4 girls (around 700,000) have either had a child or are pregnant!
An initiative to fight against teenage pregnancy has been disseminated in all regions of Uganda
A helpline has been created to enable adolescent girls to report abuse
Menstruation hygiene and management and other health related matters such as Female Genital Mutilation/Cutting (FGM/C) and HIV
About 134,000 girls and women have experience FGM/C
66% of all new HIV infections are contracted by adolescent girls
110,000 adolescent girls are infected with HIV/AIDs
The Government is working towards collecting more data that is girl-focussed, and relevant, to enable them to inform policy and program decisions. They are determined to advance the Global Girl Data Movement through building relevant sensitivities in various national information systems including the Health, Education, Orphans and Vulnerable Children, and the National Child helpline.
Going back to the international platform for this cause of removing barriers for the Girl Child, I would like to recommend that you watch the documentary entitled "We will Rise". It was put together by CNN as they followed Mrs. Michelle Obama on her visit to Morocco and Liberia (African countries!) meeting with girls, hearing their stories and encouraging them to pursue their dream! She was accompanied by Meryl Streep, Freida Pinto and CCN's Isha Sesay. Here is the link to the documentary:
http://edition.cnn.com/2016/10/11/opinions/cnn-films-we-will-rise-michelle-obama/index.html
That is all for now from Kampala, Uganda!
Milly
Link to media in Uganda: llafrica.com/stories/201610110088.html